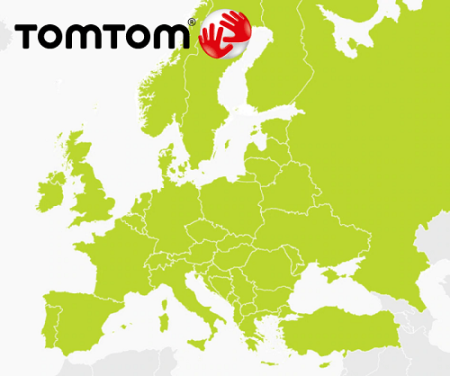 Size File: 4.66 GB
The distribution of fresh cards for trucks.
Requires NavCore Truck 9700/9701/9702
√ Explore the world and learn how to cope with it, having more than 11.5 million. Km / 7.3 million. Miles.
√ Manage more relaxed, knowing the local speed limits, no matter where you are.
√ Look over 9.1 million sites to find the best places that you need.
√ Be clear about which lane you need to drive on roundabouts, so you'll never miss a turn.
Country:
Albania
Andorra
Austria
Belarus
Belgium
Bosnia and Herzegovina
Bulgaria 75%
Croatia
Cyprus
Czech Republic
Denmark
Estonia
Finland
France
Germany
Gibraltar
Greece
Hungary
Iceland**
Ireland
Italy
Kosovo
Latvia
Liechtenstein
Lithuania
Luxembourg
Macedonia 77%
Malta
Moldova 52%
Monaco
Montenegro
Norway
Poland
Portugal
Romania
Russian Federation 82%
San Marino
Serbia
Slovakia
Slovenia
Spain
Sweden
Switzerland
The Netherlands
Turkey 92%
Ukraine 65%
United Kingdom
the Vatican City
Version of the card: 1047.10194
Developer: TomTom
License: Freeware
System requirements: Navcore 9700/9701/9702
Language :: Multilingual (Russian present)
Coverage: Europe, Russia, Belarus, Ukraine
DOWNLOAD
(Buy premium account for maximum speed and resuming ability)
Code:

http://nitroflare.com/view/D96632E70F7E76C/d98e4.TomTom.Europe.TRUCK.1047.10194.Multilingual.part1.rar
http://nitroflare.com/view/4D591BF1C484EE4/d98e4.TomTom.Europe.TRUCK.1047.10194.Multilingual.part2.rar
http://nitroflare.com/view/503018CB33EBCA3/d98e4.TomTom.Europe.TRUCK.1047.10194.Multilingual.part3.rar
http://nitroflare.com/view/F8430C536944AE0/d98e4.TomTom.Europe.TRUCK.1047.10194.Multilingual.part4.rar
http://nitroflare.com/view/9BC052B2F3B1393/d98e4.TomTom.Europe.TRUCK.1047.10194.Multilingual.part5.rar

Code:

https://rapidgator.net/file/f44e6171ba221173949d06ea8299709f/d98e4.TomTom.Europe.TRUCK.1047.10194.Multilingual.part1.rar
https://rapidgator.net/file/21cd4aaaf1ac78211f6fe042a4cba957/d98e4.TomTom.Europe.TRUCK.1047.10194.Multilingual.part2.rar
https://rapidgator.net/file/6c0abd72c120469a443acbc2a511ab9d/d98e4.TomTom.Europe.TRUCK.1047.10194.Multilingual.part3.rar
https://rapidgator.net/file/3028d231433241b5c1dd98001dab12fa/d98e4.TomTom.Europe.TRUCK.1047.10194.Multilingual.part4.rar
https://rapidgator.net/file/89e5446f8f333174e32d85e60351b7e0/d98e4.TomTom.Europe.TRUCK.1047.10194.Multilingual.part5.rar